---
Contemporary English Version
17 The Lord has done everything
that he had planned
and threatened long ago.
He destroyed you without mercy
and let your enemies boast
about
their powerful forces.[a]
18 Zion, deep in your heart
you cried out to the Lord.
Now let your tears overflow
your walls day and night.
Don't ever lose hope
or let your tears stop.
19 Get up and pray for help
all through the night.
Pour out your feelings
to the Lord,
as you would pour water
out of a jug.
Beg him to save your people,
who are starving to death
at every street crossing.
Read full chapter
Footnotes
2.17 powerful forces: The Hebrew text has "horn," which refers to the horn of a bull, one of the most powerful animals in ancient Palestine.
New International Version
17 The Lord has done what he planned;
he has fulfilled(A) his word,
which he decreed long ago.(B)
He has overthrown you without pity,(C)
he has let the enemy gloat over you,(D)
he has exalted the horn[a] of your foes.(E)
18 The hearts of the people
cry out to the Lord.(F)
You walls of Daughter Zion,(G)
let your tears(H) flow like a river
day and night;(I)
give yourself no relief,
your eyes no rest.(J)
Read full chapter
Contemporary English Version (CEV)
Copyright © 1995 by American Bible Society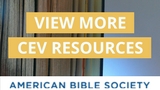 New International Version (NIV)
Holy Bible, New International Version®, NIV® Copyright ©1973, 1978, 1984, 2011 by Biblica, Inc.® Used by permission. All rights reserved worldwide.
NIV Reverse Interlinear Bible: English to Hebrew and English to Greek. Copyright © 2019 by Zondervan.