---
Jesus Walks on Water
16 That evening Jesus' disciples went down to the shore to wait for him. 17 But as darkness fell and Jesus still hadn't come back, they got into the boat and headed across the lake toward Capernaum. 18 Soon a gale swept down upon them, and the sea grew very rough. 19 They had rowed three or four miles[a] when suddenly they saw Jesus walking on the water toward the boat. They were terrified, 20 but he called out to them, "Don't be afraid. I am here![b]" 21 Then they were eager to let him in the boat, and immediately they arrived at their destination!
Read full chapter
Nueva Traducción Viviente
Jesús camina sobre el agua
16 Al atardecer, los discípulos de Jesús bajaron a la orilla del lago para esperarlo; 17 pero al ver que caía la noche y que Jesús aún no había vuelto, subieron a la barca y comenzaron a cruzar el lago rumbo a Capernaúm. 18 Poco después, se levantó un viento fuerte sobre ellos y el mar se agitó mucho. 19 Habían remado unos cinco o seis kilómetros[a] cuando de pronto vieron a Jesús caminando sobre el agua en dirección a la barca. Estaban aterrados, 20 pero él exclamó: «No tengan miedo, ¡yo estoy aquí![b]». 21 Entonces lo recibieron con entusiasmo en la barca, ¡y enseguida llegaron a su destino!
Read full chapter
New Living Translation (NLT)
Holy Bible, New Living Translation, copyright © 1996, 2004, 2015 by Tyndale House Foundation. Used by permission of Tyndale House Publishers, Inc., Carol Stream, Illinois 60188. All rights reserved.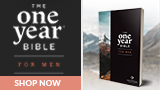 Nueva Traducción Viviente (NTV)
La Santa Biblia, Nueva Traducción Viviente, © Tyndale House Foundation, 2010. Todos los derechos reservados.