---
30 I can do nothing on my own. I judge as God tells me. Therefore, my judgment is just, because I carry out the will of the one who sent me, not my own will.
Read full chapter
24 Anyone who doesn't love me will not obey me. And remember, my words are not my own. What I am telling you is from the Father who sent me. 25 I am telling you these things now while I am still with you. 26 But when the Father sends the Advocate as my representative—that is, the Holy Spirit—he will teach you everything and will remind you of everything I have told you.
27 "I am leaving you with a gift—peace of mind and heart. And the peace I give is a gift the world cannot give. So don't be troubled or afraid. 28 Remember what I told you: I am going away, but I will come back to you again. If you really loved me, you would be happy that I am going to the Father, who is greater than I am. 29 I have told you these things before they happen so that when they do happen, you will believe.
30 "I don't have much more time to talk to you, because the ruler of this world approaches. He has no power over me, 31 but I will do what the Father requires of me, so that the world will know that I love the Father. Come, let's be going.
Read full chapter
23 But there is an order to this resurrection: Christ was raised as the first of the harvest; then all who belong to Christ will be raised when he comes back.
24 After that the end will come, when he will turn the Kingdom over to God the Father, having destroyed every ruler and authority and power. 25 For Christ must reign until he humbles all his enemies beneath his feet. 26 And the last enemy to be destroyed is death. 27 For the Scriptures say, "God has put all things under his authority."[a] (Of course, when it says "all things are under his authority," that does not include God himself, who gave Christ his authority.) 28 Then, when all things are under his authority, the Son will put himself under God's authority, so that God, who gave his Son authority over all things, will be utterly supreme over everything everywhere.
Read full chapter
New Living Translation (NLT)
Holy Bible, New Living Translation, copyright © 1996, 2004, 2015 by Tyndale House Foundation. Used by permission of Tyndale House Publishers, Inc., Carol Stream, Illinois 60188. All rights reserved.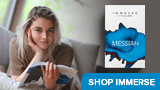 Bible Gateway Recommends
NLT Holy Bible, Giant Print, Black Imitation Leather
Retail: $39.99
Our Price: $25.99
Save: $14.00 (35%)

NLT Giant-Print Personal-Size Bible, Filament Enabled Edition--soft leather-look, black/onyx
Retail: $29.99
Our Price: $17.99
Save: $12.00 (40%)
NLT Life Application Large-Print Study Bible, Third Edition--soft leather-look, brown, tan, red letter (indexed)
Retail: $94.99
Our Price: $56.99
Save: $38.00 (40%)
The Complete Evangelical Parallel Bible KJV, NKJV, NIV & NLTse Hardcover
Retail: $59.95
Our Price: $35.99
Save: $23.96 (40%)

NLT Life Application Large-Print Study Bible, Third Edition--soft leather-look, teal (indexed)
Retail: $94.99
Our Price: $56.99
Save: $38.00 (40%)
NLT Life Application Study Bible, Third Edition--soft leather-look, brown/tan (indexed) (red letter)
Retail: $84.99
Our Price: $49.99
Save: $35.00 (41%)