---
16 For God loved the world so much that he gave his only Son, so that everyone who believes in him may not die but have eternal life.
Read full chapter
Good News Translation (GNT)
Good News Translation® (Today's English Version, Second Edition) © 1992 American Bible Society. All rights reserved. For more information about GNT, visit www.bibles.com and www.gnt.bible.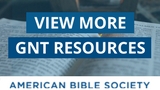 Bible Gateway Recommends
TEV Large Print Bible, Edition 0002, Paper, Blue - Slightly Imperfect
Retail: $14.99
Our Price: $13.59
Save: $1.40 (9%)
TEV Good News Bible, Paper, Multi-Colored - Slightly Imperfect
Retail: $4.59
Our Price: $4.24
Save: $0.35 (8%)
Catholic Bible, Burgundy, hardcover
Our Price: $18.99
Faith and Liberty Bible (GNT)
Retail: $49.99
Our Price: $44.99
Save: $5.00 (10%)
Good News Bible, Paper, Blue
Our Price: $6.39
GNT Pew Bible Catholic, Paper Over Board, Burgundy
Our Price: $15.43