---
Jesus Appears to His Disciples
19 That Sunday evening[a] the disciples were meeting behind locked doors because they were afraid of the Jewish leaders. Suddenly, Jesus was standing there among them! "Peace be with you," he said. 20 As he spoke, he showed them the wounds in his hands and his side. They were filled with joy when they saw the Lord! 21 Again he said, "Peace be with you. As the Father has sent me, so I am sending you." 22 Then he breathed on them and said, "Receive the Holy Spirit. 23 If you forgive anyone's sins, they are forgiven. If you do not forgive them, they are not forgiven."
Read full chapter
Footnotes
20:19 Greek In the evening of that day, the first day of the week.
Nueva Traducción Viviente
Jesús se aparece a sus discípulos
19 Ese domingo, al atardecer,[a] los discípulos estaban reunidos con las puertas bien cerradas porque tenían miedo de los líderes judíos. De pronto, ¡Jesús estaba de pie en medio de ellos! «La paz sea con ustedes», dijo. 20 Mientras hablaba, les mostró las heridas de sus manos y su costado. ¡Ellos se llenaron de alegría cuando vieron al Señor! 21 Una vez más les dijo: «La paz sea con ustedes. Como el Padre me envió a mí, así yo los envío a ustedes». 22 Entonces sopló sobre ellos y les dijo: «Reciban al Espíritu Santo. 23 Si ustedes perdonan los pecados de alguien, esos pecados son perdonados; si ustedes no los perdonan, esos pecados no son perdonados».
Read full chapter
Footnotes
20:19 En griego Al atardecer de ese día, el primer día de la semana.
New Living Translation (NLT)
Holy Bible, New Living Translation, copyright © 1996, 2004, 2015 by Tyndale House Foundation. Used by permission of Tyndale House Publishers, Inc., Carol Stream, Illinois 60188. All rights reserved.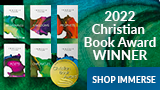 Nueva Traducción Viviente (NTV)
La Santa Biblia, Nueva Traducción Viviente, © Tyndale House Foundation, 2010. Todos los derechos reservados.