---
6 Jesus explained, "I am the Way, I am the Truth,[a] and I am the Life. No one comes next to the Father[b] except through union with me.[c] To know me is to know my Father too.
Read full chapter
New King James Version (NKJV)
Scripture taken from the New King James Version®. Copyright © 1982 by Thomas Nelson. Used by permission. All rights reserved.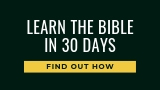 The Passion Translation (TPT)
The Passion Translation®. Copyright © 2017, 2018, 2020 by Passion & Fire Ministries, Inc.
Used by permission. All rights reserved. thePassionTranslation.com