---
Amplified Bible, Classic Edition
42 Jesus said to them, If God were your Father, you would love Me and respect Me and welcome Me gladly, for I proceeded (came forth) from God [out of His very presence]. I did not even come on My own authority or of My own accord (as self-appointed); but He sent Me.
43 Why do you misunderstand what I say? It is because you are unable to hear what I am saying. [You cannot bear to listen to My message; your ears are shut to My teaching.]
44 You are of your father, the devil, and it is your will to practice the lusts and gratify the desires [which are characteristic] of your father. He was a murderer from the beginning and does not stand in the truth, because there is no truth in him. When he speaks a falsehood, he speaks what is natural to him, for he is a liar [himself] and the father of lies and of all that is false.
Read full chapter
Amplified Bible, Classic Edition (AMPC)
Copyright © 1954, 1958, 1962, 1964, 1965, 1987 by The Lockman Foundation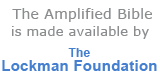 Bible Gateway Recommends
Battlefield of the Mind Bible, Amplified Version - Hardcover
Retail: $49.99
Our Price: $27.99
Save: $22.00 (44%)
Amplified Study Bible, Hardcover
Retail: $44.99
Our Price: $24.99
Save: $20.00 (44%)
Amplified Large-Print Bible, hardcover
Retail: $34.99
Our Price: $20.99
Save: $14.00 (40%)
KJV and Amplified Parallel Bible, Large Print, Leathersoft, Camel/rich red
Retail: $79.99
Our Price: $46.79
Save: $33.20 (42%)
Classic Comparative Side-by-Side Bible (NIV, KJV, NASB, Amplified) , Bonded Leather
Retail: $89.99
Our Price: $52.99
Save: $37.00 (41%)
Amplified Compact Holy Bible, hardcover
Retail: $14.99
Our Price: $8.99
Save: $6.00 (40%)