---
18 He that believeth in him, is not condemned: but he that believeth not, is condemned already, because he hath not believed in the Name of that only begotten Son of God.
19 (A)[a]And this is the [b]condemnation, that that light came into the world, and men loved darkness rather than that light, because their deeds were evil.
20 For every man that evil doeth, hateth the light, neither cometh to light, lest his deeds should be reproved.
Read full chapter
New International Version
18 Whoever believes in him is not condemned,(A) but whoever does not believe stands condemned already because they have not believed in the name of God's one and only Son.(B) 19 This is the verdict: Light(C) has come into the world, but people loved darkness instead of light because their deeds were evil.(D) 20 Everyone who does evil hates the light, and will not come into the light for fear that their deeds will be exposed.(E)
Read full chapter
1599 Geneva Bible (GNV)
Geneva Bible, 1599 Edition. Published by Tolle Lege Press. All rights reserved. No part of this publication may be reproduced or transmitted in any form or by any means, electronic or mechanical, without written permission from the publisher, except in the case of brief quotations in articles, reviews, and broadcasts.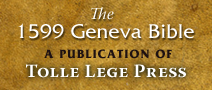 New International Version (NIV)
Holy Bible, New International Version®, NIV® Copyright ©1973, 1978, 1984, 2011 by Biblica, Inc.® Used by permission. All rights reserved worldwide.
NIV Reverse Interlinear Bible: English to Hebrew and English to Greek. Copyright © 2019 by Zondervan.