---
24 If I had not done works among them which none other man did, they had not had sin: but now have they both seen, and have hated both me, and my Father.
25 But it is that the word might be fulfilled, that is written in their [a]Law, (A)They hated me without a cause.
26 [b]But when that Comforter shall come, (B)whom I will send unto you from the Father, even the Spirit of truth, which proceedeth of the Father, he shall testify of me.
Read full chapter
Footnotes
John 15:25 Sometime by this word, Law, are meant the five books of Moses, but in this place, the whole Scripture: for the place alleged is in the Psalms.
John 15:26 Against the rage of the wicked, we shall stand surely by the inward testimony of the holy Ghost: But the holy Ghost speaketh no otherwise, than he spake by the mouth of the Apostles.
New International Version
24 If I had not done among them the works no one else did,(A) they would not be guilty of sin.(B) As it is, they have seen, and yet they have hated both me and my Father. 25 But this is to fulfill what is written in their Law:(C) 'They hated me without reason.'[a](D)
The Work of the Holy Spirit
26 "When the Advocate(E) comes, whom I will send to you from the Father(F)—the Spirit of truth(G) who goes out from the Father—he will testify about me.(H)
Read full chapter
1599 Geneva Bible (GNV)
Geneva Bible, 1599 Edition. Published by Tolle Lege Press. All rights reserved. No part of this publication may be reproduced or transmitted in any form or by any means, electronic or mechanical, without written permission from the publisher, except in the case of brief quotations in articles, reviews, and broadcasts.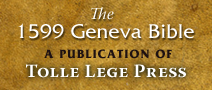 New International Version (NIV)
Holy Bible, New International Version®, NIV® Copyright ©1973, 1978, 1984, 2011 by Biblica, Inc.® Used by permission. All rights reserved worldwide.
NIV Reverse Interlinear Bible: English to Hebrew and English to Greek. Copyright © 2019 by Zondervan.