---
Amplified Bible, Classic Edition
12 Look on everyone who is proud and bring him low, and tread down the wicked where they stand [if you are so able, Job].
13 [Bury and] hide them all in the dust together; [and] shut them up [in the prison house of death].
14 [If you can do all this, Job, proving yourself of divine might] then will I [God] praise you also [and acknowledge that] your own right hand can save you.
Read full chapter
Amplified Bible, Classic Edition (AMPC)
Copyright © 1954, 1958, 1962, 1964, 1965, 1987 by The Lockman Foundation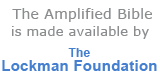 Bible Gateway Recommends
NKJV Amplified Parallel Large-Print Bible Flexisoft, Blue/Brown
Retail: $79.95
Our Price: $46.99
Save: $32.96 (41%)
Amplified Compact Holy Bible, hardcover
Retail: $14.99
Our Price: $9.99
Save: $5.00 (33%)
KJV and Amplified Parallel Bible, Large Print, Leathersoft, Camel/rich red
Retail: $79.99
Our Price: $47.99
Save: $32.00 (40%)
Amplified Bible, Battlefield Of The Mind Bible, Imitation Leather, Blue
Retail: $79.99
Our Price: $53.99
Save: $26.00 (33%)
KJV and Amplified Parallel Bible, Large Print, Hardcover
Retail: $49.99
Our Price: $29.49
Save: $20.50 (41%)
Amplified & NKJV Parallel Bible Bonded Leather, Black, Large Print
Retail: $69.95
Our Price: $39.99
Save: $29.96 (43%)