---
Amplified Bible, Classic Edition
9 And now I have become their song; yes, I am a byword to them.
10 They abhor me, they stand aloof from me, and do not refrain from spitting in my face or at the sight of me.
11 For God has loosed my bowstring and afflicted and humbled me; they have cast off the bridle [of restraint] before me.
Read full chapter
Amplified Bible, Classic Edition (AMPC)
Copyright © 1954, 1958, 1962, 1964, 1965, 1987 by The Lockman Foundation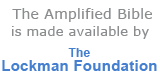 Bible Gateway Recommends
Everyday Life Bible: The Power of God's Word for Everyday Living--soft leather-look, blush
Retail: $79.99
Our Price: $54.99
Save: $25.00 (31%)
KJV and Amplified Side-by-Side Bible, Bonded Leather, Black, Large Print - Slightly Imperfect
Retail: $69.99
Our Price: $40.79
Save: $29.20 (42%)
The New Everyday Life Bible: The Power of God's Word For Everyday Living
Retail: $39.99
Our Price: $27.99
Save: $12.00 (30%)
Classic Comparative Side-by-Side Bible (NIV, KJV, NASB, Amplified) , Bonded Leather
Retail: $89.99
Our Price: $57.99
Save: $32.00 (36%)
Amplified Bible, Battlefield Of The Mind Bible, Imitation Leather, Blue
Retail: $79.99
Our Price: $53.99
Save: $26.00 (33%)
Amplified Thinline Holy Bible--bonded leather, black (indexed)
Retail: $59.99
Our Price: $36.99
Save: $23.00 (38%)