---
22 2 Eliphaz affirmeth that Job is punished for his sins. 6 He accuseth him of unmercifulness. 13 And that he denied God's providence. 21 He exhorteth to repentance.
1 Then Eliphaz the Temanite answered, and said,
2 May a man be [a]profitable unto God, as he that is wise may be profitable to himself?
3 (A)Is it anything unto the Almighty, that thou art righteous? or is it profitable to him, that thou makest thy ways upright?
4 Is it for fear [b]of thee that he will accuse thee? or go with thee into judgment?
5 Is not thy wickedness great, and thine iniquities innumerable?
6 For thou hast taken the [c]pledge from thy brother for nought, and spoiled the clothes of the naked.
7 To such as were weary, thou hast not given water to drink, and hast withdrawn bread from the hungry.
8 But the mighty man [d]had the earth, and he that was in authority, dwelt in it.
9 Thou hast cast out widows empty, and the arms of the [e]fatherless were broken.
10 Therefore snares are round about thee, and fear shall suddenly trouble thee.
11 Or darkness that thou shouldest not see, and [f]abundance of waters shall cover thee.
12 Is not God on [g]high in the heaven? and behold the height of the [h]stars how high they are.
13 But thou sayest, How should God [i]know? can he judge through the dark cloud?
14 The clouds hide him that he cannot see, and he walketh in the circle of heaven.
15 Hast thou marked the way of the world, [j]wherein wicked men have walked?
16 Which were [k]cut down before the time, whose foundation was as a river that overflowed:
17 Which said unto God, Depart from us, and asked what the Almighty could do for them.
18 Yet he [l]filled their houses with good things: but let the counsel of the wicked be far from me.
19 The righteous shall see them, and shall rejoice, [m]and the innocent shall laugh them to scorn.
20 Surely [n]our substance is hid: but the fire hath devoured the remnant of [o]them.
21 Therefore acquaint thyself, I pray thee, [p]with him, and make peace: thereby thou shalt have prosperity.
22 Receive, I pray thee, the law of his mouth, and lay up his words in thine heart.
23 If thou return to the Almighty, thou shalt [q]be built up, and thou shalt put iniquity far from thy tabernacle.
24 Thou shalt lay up gold for [r]dust, and the gold of Ophir, as the flints of the rivers.
25 Yea, the Almighty shall be thy defense, and thou shalt have plenty of silver.
26 And thou shalt then delight in the Almighty, and lift up thy face unto God.
27 Thou shalt make thy prayer unto him, and he shall hear thee, and thou shalt render thy vows.
28 Thou shalt also decree a thing, and he shall establish it unto thee, and the [s]light shall shine upon thy ways.
29 [t]When others are cast down, then shalt thou say, I am lifted up: and God shall save the humble person.
30 The innocent shall deliver the [u]island, and it shall be preserved by the pureness of thine hands.
New International Version
1599 Geneva Bible (GNV)
Geneva Bible, 1599 Edition. Published by Tolle Lege Press. All rights reserved. No part of this publication may be reproduced or transmitted in any form or by any means, electronic or mechanical, without written permission from the publisher, except in the case of brief quotations in articles, reviews, and broadcasts.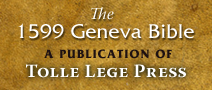 New International Version (NIV)
Holy Bible, New International Version®, NIV® Copyright ©1973, 1978, 1984, 2011 by Biblica, Inc.® Used by permission. All rights reserved worldwide.
NIV Reverse Interlinear Bible: English to Hebrew and English to Greek. Copyright © 2019 by Zondervan.