---
King Jehoiakim Burns the Scroll
21 The king sent Jehudi to get the scroll. Jehudi brought it from Elishama's room and read it to the king as all his officials stood by. 22 It was late autumn, and the king was in a winterized part of the palace, sitting in front of a fire to keep warm. 23 Each time Jehudi finished reading three or four columns, the king took a knife and cut off that section of the scroll. He then threw it into the fire, section by section, until the whole scroll was burned up. 24 Neither the king nor his attendants showed any signs of fear or repentance at what they heard. 25 Even when Elnathan, Delaiah, and Gemariah begged the king not to burn the scroll, he wouldn't listen.
26 Then the king commanded his son Jerahmeel, Seraiah son of Azriel, and Shelemiah son of Abdeel to arrest Baruch and Jeremiah. But the Lord had hidden them.
Jeremiah Rewrites the Scroll
27 After the king had burned the scroll on which Baruch had written Jeremiah's words, the Lord gave Jeremiah another message. He said, 28 "Get another scroll, and write everything again just as you did on the scroll King Jehoiakim burned.
Read full chapter
32 So Jeremiah took another scroll and dictated again to his secretary, Baruch. He wrote everything that had been on the scroll King Jehoiakim had burned in the fire. Only this time he added much more!
Read full chapter
New Living Translation (NLT)
Holy Bible, New Living Translation, copyright © 1996, 2004, 2015 by Tyndale House Foundation. Used by permission of Tyndale House Publishers, Inc., Carol Stream, Illinois 60188. All rights reserved.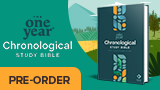 Bible Gateway Recommends
NLT Teen Life Application Study Bible, Hardcover
Retail: $27.99
Our Price: $21.49
Save: $6.50 (23%)

NLT Life Recovery Bible, Large Print
Retail: $34.99
Our Price: $27.99
Save: $7.00 (20%)
NLT Children's Outreach Bible, Softcover
Retail: $3.99
Our Price: $2.79
Save: $1.20 (30%)

NLT The Life Recovery Bible, Softcover
Retail: $27.99
Our Price: $21.49
Save: $6.50 (23%)
NLT Life Application Large-Print Study Bible, Third Edition--soft leather-look, brown, mahogan, red letter (indexed)
Retail: $94.99
Our Price: $61.49
Save: $33.50 (35%)
NLT Compact Giant Print Bible, Filament Enabled Edition (Red Letter, LeatherLike, Mahogany Celtic Cross)
Retail: $34.99
Our Price: $20.99
Save: $14.00 (40%)