---
A Promise of Restoration
36 "Now I want to say something more about this city. You have been saying, 'It will fall to the king of Babylon through war, famine, and disease.' But this is what the Lord, the God of Israel, says: 37 I will certainly bring my people back again from all the countries where I will scatter them in my fury. I will bring them back to this very city and let them live in peace and safety. 38 They will be my people, and I will be their God. 39 And I will give them one heart and one purpose: to worship me forever, for their own good and for the good of all their descendants. 40 And I will make an everlasting covenant with them: I will never stop doing good for them. I will put a desire in their hearts to worship me, and they will never leave me. 41 I will find joy doing good for them and will faithfully and wholeheartedly replant them in this land.
42 "This is what the Lord says: Just as I have brought all these calamities on them, so I will do all the good I have promised them. 43 Fields will again be bought and sold in this land about which you now say, 'It has been ravaged by the Babylonians, a desolate land where people and animals have all disappeared.' 44 Yes, fields will once again be bought and sold—deeds signed and sealed and witnessed—in the land of Benjamin and here in Jerusalem, in the towns of Judah and in the hill country, in the foothills of Judah[a] and in the Negev, too. For someday I will restore prosperity to them. I, the Lord, have spoken!"
Read full chapter
Footnotes
32:44 Hebrew the Shephelah.
New Living Translation (NLT)
Holy Bible, New Living Translation, copyright © 1996, 2004, 2015 by Tyndale House Foundation. Used by permission of Tyndale House Publishers, Inc., Carol Stream, Illinois 60188. All rights reserved.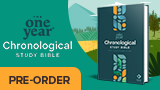 Bible Gateway Recommends
NLT Premium Gift Bible--soft leather-look, blue
Retail: $15.99
Our Price: $11.99
Save: $4.00 (25%)

NLT Hands-On Bible, Softcover
Retail: $19.99
Our Price: $15.99
Save: $4.00 (20%)
NLT Compact Giant Print Bible, Filament Enabled Edition (Red Letter, LeatherLike, Rose Metallic Peony)
Retail: $34.99
Our Price: $23.99
Save: $11.00 (31%)
The Daily Walk Bible, NLT Softcover
Retail: $19.99
Our Price: $15.99
Save: $4.00 (20%)

NLT Compact Giant Print Bible, Filament Enabled Edition (Red Letter, LeatherLike, Peony Rich Teal)
Retail: $34.99
Our Price: $23.99
Save: $11.00 (31%)
NLT Life Application Large-Print Study Bible, Third Edition--hardcover, red letter
Retail: $64.99
Our Price: $41.49
Save: $23.50 (36%)