---
Amplified Bible, Classic Edition
13 And he burned the house of the Lord and the king's house and all the houses of Jerusalem; every great house he consumed with fire.
14 And all the army of the Chaldeans who were with the captain of the guard broke down all the walls round about Jerusalem.
15 Then Nebuzaradan the captain of the guard carried away captive some of the poorest of the people and those who were left in the city [at the time it was captured], along with those who went out to the king of Babylon [during the siege] and the remnant of the multitude [the country's working people].
Read full chapter
Amplified Bible, Classic Edition (AMPC)
Copyright © 1954, 1958, 1962, 1964, 1965, 1987 by The Lockman Foundation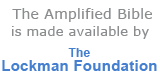 Bible Gateway Recommends
Everyday Life Bible: The Power of God's Word for Everyday Living--soft leather-look, blush
Retail: $79.99
Our Price: $54.99
Save: $25.00 (31%)
Amplified Bible, Battlefield Of The Mind Bible, Imitation Leather, Blue
Retail: $79.99
Our Price: $53.99
Save: $26.00 (33%)

KJV and Amplified Parallel Bible, Large Print, Hardcover
Retail: $49.99
Our Price: $29.49
Save: $20.50 (41%)

Amplified Large-Print Bible, hardcover
Retail: $34.99
Our Price: $22.49
Save: $12.50 (36%)
The Amplified Study Bible, eBook - eBook
Our Price: $14.99
KJV and Amplified Parallel Bible, Large Print, Leathersoft, Camel/rich red
Retail: $79.99
Our Price: $52.99
Save: $27.00 (34%)