---
Amplified Bible, Classic Edition
16 Exterminate the sower from Babylon, and the one who handles the sickle in the time of harvest. For fear of the sword of the oppressor everyone shall return to his people, and everyone shall flee to his own land.
17 Israel is a hunted and scattered sheep [driven hither and thither and preyed upon by savage beasts]; the lions have chased him. First the king of Assyria devoured him, and now at last [a]Nebuchadrezzar king of Babylon has broken and gnawed his bones.
18 Therefore thus says the Lord of hosts, the God of Israel: Behold, I will visit and punish the king of Babylon and his land, just as I visited and punished the king of Assyria.
Read full chapter
Amplified Bible, Classic Edition (AMPC)
Copyright © 1954, 1958, 1962, 1964, 1965, 1987 by The Lockman Foundation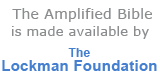 Bible Gateway Recommends
Amplified Study Bible--soft leather-look, purple
Retail: $69.99
Our Price: $45.49
Save: $24.50 (35%)
Battlefield of the Mind Bible: Renew Your Mind Through the Power of God's Word, Imitation Leather, pink
Retail: $79.99
Our Price: $53.99
Save: $26.00 (33%)
Amplified Topical Reference Bible, Bonded Leather, Black
Retail: $69.99
Our Price: $37.99
Save: $32.00 (46%)
Amplified Study Bible, Large Print, Imitation Leather, Brown
Retail: $69.99
Our Price: $43.49
Save: $26.50 (38%)

Amplified Thinline Holy Bible--bonded leather, burgundy
Retail: $49.99
Our Price: $31.99
Save: $18.00 (36%)
Battlefield of the Mind Bible, Amplified Version - Hardcover
Retail: $49.99
Our Price: $24.99
Save: $25.00 (50%)