---
43 
"The king of Babylon has heard the report about them,
And his hands fall limp and helpless;
Anguish has seized him,
And agony like that of a woman in childbirth.
44 "See, one will come up like a lion from the thicket of the Jordan against the enduring habitation [of Babylon] and its watered pastures; for in an instant I will make Babylon run from his land. I will appoint over Babylon the one whom I choose. For who is like Me, and who will summon Me [into court] and prosecute Me [for this]? Who is the [earthly] shepherd who can stand [defiantly] before Me?"(A) 45 Therefore hear the plan of the Lord which He has devised against Babylon, and hear what He has purposed against [the inhabitants of the land of] the Chaldeans: surely they will be dragged away, [even] the little ones of the flock; surely He will make their habitation desolate because of them.
Read full chapter
New International Version
43 The king of Babylon has heard reports about them,
and his hands hang limp.(A)
Anguish has gripped him,
pain like that of a woman in labor.(B)
44 Like a lion coming up from Jordan's thickets(C)
to a rich pastureland,
I will chase Babylon from its land in an instant.
Who is the chosen(D) one I will appoint for this?
Who is like me and who can challenge me?(E)
And what shepherd can stand against me?"
45 Therefore, hear what the Lord has planned against Babylon,
what he has purposed(F) against the land of the Babylonians:(G)
The young of the flock will be dragged away;
their pasture will be appalled at their fate.
Read full chapter
Amplified Bible (AMP)
Copyright © 2015 by The Lockman Foundation, La Habra, CA 90631. All rights reserved.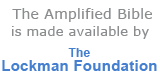 New International Version (NIV)
Holy Bible, New International Version®, NIV® Copyright ©1973, 1978, 1984, 2011 by Biblica, Inc.® Used by permission. All rights reserved worldwide.
NIV Reverse Interlinear Bible: English to Hebrew and English to Greek. Copyright © 2019 by Zondervan.