---
Contemporary English Version
25 I once was pleased
with your famous city.
But now I warn you, "Escape
while you still can!"[a]
26 Soon, even your best soldiers
will lie dead in your streets.
I, the Lord All-Powerful,
have spoken.
27 I will set fire to your city walls
and burn down the fortresses
King Benhadad built.
Read full chapter
Footnotes
49.25 can: One possible meaning for the difficult Hebrew text of verse 25.
New International Version
25 Why has the city of renown not been abandoned,
the town in which I delight?
26 Surely, her young men(A) will fall in the streets;
all her soldiers will be silenced(B) in that day,"
declares the Lord Almighty.
27 "I will set fire(C) to the walls of Damascus;(D)
it will consume(E) the fortresses of Ben-Hadad.(F)"
Read full chapter
Contemporary English Version (CEV)
Copyright © 1995 by American Bible Society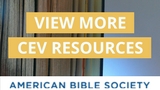 New International Version (NIV)
Holy Bible, New International Version®, NIV® Copyright ©1973, 1978, 1984, 2011 by Biblica, Inc.® Used by permission. All rights reserved worldwide.
NIV Reverse Interlinear Bible: English to Hebrew and English to Greek. Copyright © 2019 by Zondervan.