---
Amplified Bible, Classic Edition
27 For was not Israel [an object of] derision to you? Was he found among thieves—since whenever you speak of him you wag your head [in scorn]?
28 O you inhabitants of Moab, leave the cities and dwell among the rocks, and be like the dove that makes her nest in the walls of the yawning ravine.
29 We have heard of the [giddy] pride of Moab, the extremely proud one—his loftiness, his arrogance, his conceit, and the haughtiness of his heart.
Read full chapter
New International Version
27 Was not Israel the object of your ridicule?(A)
Was she caught among thieves,(B)
that you shake your head(C) in scorn(D)
whenever you speak of her?
28 Abandon your towns and dwell among the rocks,
you who live in Moab.
Be like a dove(E) that makes its nest
at the mouth of a cave.(F)
29 "We have heard of Moab's pride(G)—
how great is her arrogance!—
of her insolence, her pride, her conceit
and the haughtiness(H) of her heart.
Read full chapter
Amplified Bible, Classic Edition (AMPC)
Copyright © 1954, 1958, 1962, 1964, 1965, 1987 by The Lockman Foundation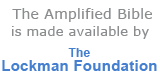 New International Version (NIV)
Holy Bible, New International Version®, NIV® Copyright ©1973, 1978, 1984, 2011 by Biblica, Inc.® Used by permission. All rights reserved worldwide.
NIV Reverse Interlinear Bible: English to Hebrew and English to Greek. Copyright © 2019 by Zondervan.