---
Contemporary English Version
10 Then tell them that I, the Lord All-Powerful, the God of Israel, have sent for my servant, Nebuchadnezzar[a] of Babylonia. I will bring him here and have him set up his throne and his royal tent over these stones that I told you to bury. 11 He will attack Egypt and kill many of its people; others will die of disease or be dragged away as prisoners. 12-13 I will have him set Egypt's temples on fire, and he will either burn or carry off their idols. He will destroy the sacred monuments at the temple of the sun-god.[b] Then Nebuchadnezzar will pick the land clean, just like a shepherd picking the lice off his clothes. And he will return safely home.
Read full chapter
New International Version
10 Then say to them, 'This is what the Lord Almighty, the God of Israel, says: I will send for my servant(A) Nebuchadnezzar(B) king of Babylon, and I will set his throne(C) over these stones I have buried here; he will spread his royal canopy(D) above them. 11 He will come and attack Egypt,(E) bringing death(F) to those destined(G) for death, captivity to those destined for captivity,(H) and the sword to those destined for the sword.(I) 12 He will set fire(J) to the temples(K) of the gods(L) of Egypt; he will burn their temples and take their gods captive.(M) As a shepherd picks(N) his garment clean of lice, so he will pick Egypt clean and depart.
Read full chapter
Contemporary English Version (CEV)
Copyright © 1995 by American Bible Society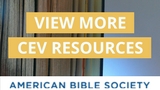 New International Version (NIV)
Holy Bible, New International Version®, NIV® Copyright ©1973, 1978, 1984, 2011 by Biblica, Inc.® Used by permission. All rights reserved worldwide.
NIV Reverse Interlinear Bible: English to Hebrew and English to Greek. Copyright © 2019 by Zondervan.