---
Amplified Bible, Classic Edition
26 [How long shall this state of things continue?] How long yet shall it be in the minds of the prophets who prophesy falsehood, even the prophets of the deceit of their own hearts,
27 Who think that they can cause My people to forget My name by their dreams which every man tells to his neighbor, just as their fathers forgot My name because of Baal?
28 The prophet who has a dream, let him tell his dream; but he who has My word, let him speak My word faithfully. What has straw in common with wheat [for nourishment]? says the Lord.
Read full chapter
Amplified Bible, Classic Edition (AMPC)
Copyright © 1954, 1958, 1962, 1964, 1965, 1987 by The Lockman Foundation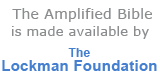 Bible Gateway Recommends
Amplified Study Bible, Large Print, Imitation Leather, Brown
Retail: $69.99
Our Price: $41.99
Save: $28.00 (40%)

Classic Comparative Side-by-Side Bible (NIV, KJV, NASB, Amplified)
Retail: $54.99
Our Price: $32.99
Save: $22.00 (40%)
Amplified Study Bible--soft leather-look, purple
Retail: $69.99
Our Price: $41.99
Save: $28.00 (40%)
Amplified Study Bible--soft leather-look, purple - Imperfectly Imprinted Bibles
Retail: $69.99
Our Price: $33.59
Save: $36.40 (52%)
Amplified Study Bible--soft leather-look, purple (indexed)
Retail: $79.99
Our Price: $47.99
Save: $32.00 (40%)
Amplified Bible, Battlefield Of The Mind Bible, Imitation Leather, Blue
Retail: $79.99
Our Price: $53.99
Save: $26.00 (33%)