---
Amplified Bible, Classic Edition
19 [No] he shall be buried with the burial of a donkey—dragged out and cast forth beyond the gates of Jerusalem.
20 Go up [north] to Lebanon and cry out, and raise your voice in [the hills] of Bashan [across the Jordan], and cry out from Abarim [a range of mountains southeast of Palestine], for all your lovers (the king's chosen allies) are destroyed.(A)
21 I spoke to you in your [times of] prosperity, but you said, I will not listen! This has been your attitude from your youth; you have not obeyed My voice.
Read full chapter
Amplified Bible, Classic Edition (AMPC)
Copyright © 1954, 1958, 1962, 1964, 1965, 1987 by The Lockman Foundation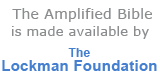 Bible Gateway Recommends
Amplified Thinline Holy Bible--bonded leather, burgundy
Retail: $49.99
Our Price: $29.99
Save: $20.00 (40%)

Everyday Life Bible: The Power of God's Word for Everyday Living--soft leather-look, teal
Retail: $79.99
Our Price: $53.99
Save: $26.00 (33%)

Amplified Study Bible, Large Print, Imitation Leather, Brown
Retail: $69.99
Our Price: $41.99
Save: $28.00 (40%)

Everyday Life Bible: The Power Of God's Word For Everyday Living, Imitation Leather, pewter
Retail: $79.99
Our Price: $54.99
Save: $25.00 (31%)

KJV and Amplified Parallel Bible, Large Print, Bonded Leather, Black
Retail: $79.99
Our Price: $47.99
Save: $32.00 (40%)
Amplified Bible, Large Print leather-look, brown/dark brown- index
Retail: $79.99
Our Price: $47.99
Save: $32.00 (40%)