---
Amplified Bible, Classic Edition
16 He judged and defended the cause of the poor and needy; then it was well. Was not [all] this [what it means] to know and recognize Me? says the Lord.
17 But your eyes and your heart are only for your covetousness and dishonest gain, for shedding innocent blood, for oppression and doing violence.
18 Therefore thus says the Lord concerning Jehoiakim son of Josiah king of Judah: [Relatives] shall not lament for him, saying, Ah, my brother! or, Ah, sister, [how great our loss! Subjects] shall not lament for him saying, Ah, lord! or Ah, his majesty! or Ah, [how great was] his glory!
Read full chapter
Amplified Bible, Classic Edition (AMPC)
Copyright © 1954, 1958, 1962, 1964, 1965, 1987 by The Lockman Foundation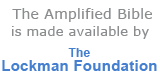 Bible Gateway Recommends
Amplified Large-Print Bible--bonded leather, burgundy
Retail: $69.99
Our Price: $45.99
Save: $24.00 (34%)
KJV and Amplified Parallel Bible, Large Print, Hardcover
Retail: $49.99
Our Price: $29.49
Save: $20.50 (41%)

Classic Comparative Side-by-Side Bible (NIV, KJV, NASB, Amplified) , Bonded Leather
Retail: $89.99
Our Price: $57.99
Save: $32.00 (36%)

Everyday Life Bible: The Power Of God's Word For Everyday Living, Imitation Leather, pewter
Retail: $79.99
Our Price: $53.99
Save: $26.00 (33%)
Amplified Cross-Reference Bible - eBook
Our Price: $9.99
Amplified Compact Holy Bible--soft leather-look, camel/burgundy
Retail: $34.99
Our Price: $22.99
Save: $12.00 (34%)