---
Amplified Bible, Classic Edition
5 Thus says the Lord: Cursed [with great evil] is the strong man who trusts in and relies on frail man, making weak [human] flesh his arm, and whose mind and heart turn aside from the Lord.
6 For he shall be like a shrub or a person naked and destitute in the desert; and he shall not see any good come, but shall dwell in the parched places in the wilderness, in an uninhabited salt land.
7 [Most] blessed is the man who believes in, trusts in, and relies on the Lord, and whose hope and confidence the Lord is.
Read full chapter
Amplified Bible, Classic Edition (AMPC)
Copyright © 1954, 1958, 1962, 1964, 1965, 1987 by The Lockman Foundation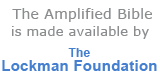 Bible Gateway Recommends
Amplified Holy Bible, hardcover
Retail: $29.99
Our Price: $19.99
Save: $10.00 (33%)
Amplified Bible, Large Print leather-look, brown/dark brown- index
Retail: $79.99
Our Price: $52.99
Save: $27.00 (34%)
KJV and Amplified Parallel Bible, Large Print, Hardcover
Retail: $49.99
Our Price: $29.49
Save: $20.50 (41%)
KJV and Amplified Parallel Bible, Large Print, Leathersoft, Camel/rich red
Retail: $79.99
Our Price: $52.99
Save: $27.00 (34%)
Battlefield of the Mind New Testament--soft leather-look, coral
Retail: $24.99
Our Price: $16.99
Save: $8.00 (32%)
Amplified Topical Reference Bible, Bonded Leather, Black
Retail: $69.99
Our Price: $37.99
Save: $32.00 (46%)