---
Contemporary English Version
8 They will be like trees
growing beside a stream—
trees with roots that reach
down to the water,
and with leaves
that are always green.
They bear fruit every year
and are never worried
by a lack of rain.
9 You people of Judah
are so deceitful
that you even fool yourselves,
and you can't change.
10 But I know your deeds
and your thoughts,
and I will make sure
you get what you deserve.
Read full chapter
New International Version
8 They will be like a tree planted by the water
that sends out its roots by the stream.(A)
It does not fear when heat comes;
its leaves are always green.
It has no worries in a year of drought(B)
and never fails to bear fruit."(C)
9 The heart(D) is deceitful above all things
and beyond cure.
Who can understand it?
10 "I the Lord search the heart(E)
and examine the mind,(F)
to reward(G) each person according to their conduct,
according to what their deeds deserve."(H)
Read full chapter
Contemporary English Version (CEV)
Copyright © 1995 by American Bible Society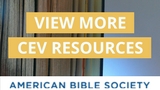 New International Version (NIV)
Holy Bible, New International Version®, NIV® Copyright ©1973, 1978, 1984, 2011 by Biblica, Inc.® Used by permission. All rights reserved worldwide.
NIV Reverse Interlinear Bible: English to Hebrew and English to Greek. Copyright © 2019 by Zondervan.