---
Amplified Bible, Classic Edition
17 For My eyes are on all their ways; they are not hidden from My face, neither is their iniquity concealed from My eyes.
18 First [before I bring them back to their land] I will doubly recompense and punish them for their iniquity and their sin, because they have polluted My land with the carcasses of their detestable idols and with the abominable things offered to false gods with which they have filled My inheritance.
19 [Then said Jeremiah] O Lord, my Strength and my Stronghold, and my Refuge in the day of affliction, to You shall the nations come from the ends of the earth and shall say, Surely our fathers have inherited nothing but lies, emptiness, and futility, worthless things in which there is no profit!
Read full chapter
Amplified Bible, Classic Edition (AMPC)
Copyright © 1954, 1958, 1962, 1964, 1965, 1987 by The Lockman Foundation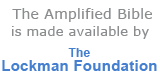 Bible Gateway Recommends
KJV and Amplified Parallel Bible, Large Print, Leathersoft, Camel/rich red
Retail: $79.99
Our Price: $52.99
Save: $27.00 (34%)

Battlefield of the Mind Bible: Renew Your Mind Through the Power of God's Word, Imitation Leather, pink
Retail: $79.99
Our Price: $54.49
Save: $25.50 (32%)

Amplified Bible, Battlefield Of The Mind Bible, Imitation Leather, Blue
Retail: $79.99
Our Price: $53.99
Save: $26.00 (33%)

Amplified Bible, Battlefield of the Mind: Psalms and Proverbs Imitation Leather
Retail: $19.00
Our Price: $13.49
Save: $5.51 (29%)

The New Everyday Life Bible: The Power of God's Word For Everyday Living
Retail: $39.99
Our Price: $27.99
Save: $12.00 (30%)
Everyday Life Bible: The Power Of God's Word For Everyday Living, Imitation Leather, pink
Retail: $79.99
Our Price: $53.99
Save: $26.00 (33%)