---
Contemporary English Version
14 My anger is a fire
that cannot be put out,[a]
so I will make you slaves
of your enemies
in a foreign land.[b]
Jeremiah Complains Again
15 You can see how I suffer
insult after insult,
all because of you, Lord.
Don't be so patient
with my enemies;
take revenge on them
before they kill me.
16 When you spoke to me,
I was glad to obey,
because I belong to you,
the Lord All-Powerful.
Read full chapter
New International Version
14 I will enslave you to your enemies
in[a] a land you do not know,(A)
for my anger will kindle a fire(B)
that will burn against you."
15 Lord, you understand;
remember me and care for me.
Avenge me on my persecutors.(C)
You are long-suffering(D)—do not take me away;
think of how I suffer reproach for your sake.(E)
16 When your words came, I ate(F) them;
they were my joy and my heart's delight,(G)
for I bear your name,(H)
Lord God Almighty.
Read full chapter
Footnotes
Jeremiah 15:14 Some Hebrew manuscripts, Septuagint and Syriac (see also 17:4); most Hebrew manuscripts I will cause your enemies to bring you / into
Contemporary English Version (CEV)
Copyright © 1995 by American Bible Society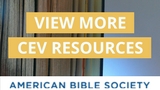 New International Version (NIV)
Holy Bible, New International Version®, NIV® Copyright ©1973, 1978, 1984, 2011 by Biblica, Inc.® Used by permission. All rights reserved worldwide.
NIV Reverse Interlinear Bible: English to Hebrew and English to Greek. Copyright © 2019 by Zondervan.