---
Amplified Bible, Classic Edition
15 And after I have plucked them up, I will return and have compassion on them and will bring them back again, every man to his heritage and every man to his land.
16 And if these [neighbor nations] will diligently learn the ways of My people, to swear by My name, saying, As the Lord lives—even as they taught My people to swear by Baal—then will they be built up in the midst of My people.
17 But if any nation will not hear and obey, I will utterly pluck up and destroy that nation, says the Lord.
Read full chapter
Amplified Bible, Classic Edition (AMPC)
Copyright © 1954, 1958, 1962, 1964, 1965, 1987 by The Lockman Foundation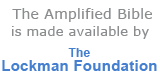 Bible Gateway Recommends
Everyday Life Bible: The Power Of God's Word For Everyday Living, Imitation Leather, pink
Retail: $79.99
Our Price: $53.99
Save: $26.00 (33%)

KJV and Amplified Parallel Bible, Large Print, Leathersoft, Camel/rich red
Retail: $79.99
Our Price: $47.99
Save: $32.00 (40%)
Classic Comparative Side-by-Side Bible (NIV, KJV, NASB, Amplified) , Bonded Leather
Retail: $89.99
Our Price: $57.99
Save: $32.00 (36%)
Amplified Study Bible--soft leather-look, purple
Retail: $69.99
Our Price: $45.49
Save: $24.50 (35%)
NKJV Amplified Parallel Bible Hardcover Large Print
Retail: $39.95
Our Price: $23.99
Save: $15.96 (40%)
Classic Comparative Side-by-Side Bible (NIV, KJV, NASB, Amplified) - Slightly Imperfect
Retail: $54.99
Our Price: $30.59
Save: $24.40 (44%)