---
Greeting to the Twelve Tribes
1 James, (A)a bondservant of God and of the Lord Jesus Christ,
To the twelve tribes which are scattered abroad:
Greetings.
Profiting from Trials
2 My brethren, (B)count it all joy (C)when you fall into various trials, 3 (D)knowing that the testing of your faith produces [a]patience. 4 But let patience have its perfect work, that you may be [b]perfect and complete, lacking nothing. 5 (E)If any of you lacks wisdom, (F)let him ask of God, who gives to all liberally and without reproach, and (G)it will be given to him. 6 (H)But let him ask in faith, with no doubting, for he who doubts is like a wave of the sea driven and tossed by the wind. 7 For let not that man suppose that he will receive anything from the Lord; 8 he is (I)a double-minded man, unstable in all his ways.
The Perspective of Rich and Poor
9 Let the lowly brother glory in his exaltation, 10 but the rich in his humiliation, because (J)as a flower of the field he will pass away. 11 For no sooner has the sun risen with a burning heat than it withers the grass; its flower falls, and its beautiful appearance perishes. So the rich man also will fade away in his pursuits.
Loving God Under Trials
12 (K)Blessed is the man who endures temptation; for when he has been approved, he will receive (L)the crown of life (M)which the Lord has promised to those who love Him. 13 Let no one say when he is tempted, "I am tempted by God"; for God cannot be tempted by evil, nor does He Himself tempt anyone. 14 But each one is tempted when he is drawn away by his own desires and enticed. 15 Then, (N)when desire has conceived, it gives birth to sin; and sin, when it is full-grown, (O)brings forth death.
16 Do not be deceived, my beloved brethren. 17 (P)Every good gift and every perfect gift is from above, and comes down from the Father of lights, (Q)with whom there is no variation or shadow of turning. 18 (R)Of His own will He brought us forth by the (S)word of truth, (T)that we might be a kind of firstfruits of His creatures.
Qualities Needed in Trials
19 [c]So then, my beloved brethren, let every man be swift to hear, (U)slow to speak, (V)slow to wrath; 20 for the wrath of man does not produce the righteousness of God.
Doers—Not Hearers Only
21 Therefore (W)lay aside all filthiness and [d]overflow of wickedness, and receive with meekness the implanted word, (X)which is able to save your souls.
22 But (Y)be doers of the word, and not hearers only, deceiving yourselves. 23 For (Z)if anyone is a hearer of the word and not a doer, he is like a man observing his natural face in a mirror; 24 for he observes himself, goes away, and immediately forgets what kind of man he was. 25 But (AA)he who looks into the perfect law of liberty and continues in it, and is not a forgetful hearer but a doer of the work, (AB)this one will be blessed in what he does.
26 If anyone [e]among you thinks he is religious, and (AC)does not bridle his tongue but deceives his own heart, this one's religion is useless. 27 (AD)Pure and undefiled religion before God and the Father is this: (AE)to visit orphans and widows in their trouble, (AF)and to keep oneself unspotted from the world.
Greetings from James
1 This letter is from James, a slave of God and of the Lord Jesus Christ.
I am writing to the "twelve tribes"—Jewish believers scattered abroad.
Greetings!
Faith and Endurance
2 Dear brothers and sisters,[a] when troubles of any kind come your way, consider it an opportunity for great joy. 3 For you know that when your faith is tested, your endurance has a chance to grow. 4 So let it grow, for when your endurance is fully developed, you will be perfect and complete, needing nothing.
5 If you need wisdom, ask our generous God, and he will give it to you. He will not rebuke you for asking. 6 But when you ask him, be sure that your faith is in God alone. Do not waver, for a person with divided loyalty is as unsettled as a wave of the sea that is blown and tossed by the wind. 7 Such people should not expect to receive anything from the Lord. 8 Their loyalty is divided between God and the world, and they are unstable in everything they do.
9 Believers who are[b] poor have something to boast about, for God has honored them. 10 And those who are rich should boast that God has humbled them. They will fade away like a little flower in the field. 11 The hot sun rises and the grass withers; the little flower droops and falls, and its beauty fades away. In the same way, the rich will fade away with all of their achievements.
12 God blesses those who patiently endure testing and temptation. Afterward they will receive the crown of life that God has promised to those who love him. 13 And remember, when you are being tempted, do not say, "God is tempting me." God is never tempted to do wrong,[c] and he never tempts anyone else. 14 Temptation comes from our own desires, which entice us and drag us away. 15 These desires give birth to sinful actions. And when sin is allowed to grow, it gives birth to death.
16 So don't be misled, my dear brothers and sisters. 17 Whatever is good and perfect is a gift coming down to us from God our Father, who created all the lights in the heavens.[d] He never changes or casts a shifting shadow.[e] 18 He chose to give birth to us by giving us his true word. And we, out of all creation, became his prized possession.[f]
Listening and Doing
19 Understand this, my dear brothers and sisters: You must all be quick to listen, slow to speak, and slow to get angry. 20 Human anger[g] does not produce the righteousness[h] God desires. 21 So get rid of all the filth and evil in your lives, and humbly accept the word God has planted in your hearts, for it has the power to save your souls.
22 But don't just listen to God's word. You must do what it says. Otherwise, you are only fooling yourselves. 23 For if you listen to the word and don't obey, it is like glancing at your face in a mirror. 24 You see yourself, walk away, and forget what you look like. 25 But if you look carefully into the perfect law that sets you free, and if you do what it says and don't forget what you heard, then God will bless you for doing it.
26 If you claim to be religious but don't control your tongue, you are fooling yourself, and your religion is worthless. 27 Pure and genuine religion in the sight of God the Father means caring for orphans and widows in their distress and refusing to let the world corrupt you.
1 I, James, am a slave of God and the Master Jesus, writing to the twelve tribes scattered to Kingdom Come: Hello!
Faith Under Pressure
2-4 Consider it a sheer gift, friends, when tests and challenges come at you from all sides. You know that under pressure, your faith-life is forced into the open and shows its true colors. So don't try to get out of anything prematurely. Let it do its work so you become mature and well-developed, not deficient in any way.
5-8 If you don't know what you're doing, pray to the Father. He loves to help. You'll get his help, and won't be condescended to when you ask for it. Ask boldly, believingly, without a second thought. People who "worry their prayers" are like wind-whipped waves. Don't think you're going to get anything from the Master that way, adrift at sea, keeping all your options open.
9-11 When down-and-outers get a break, cheer! And when the arrogant rich are brought down to size, cheer! Prosperity is as short-lived as a wildflower, so don't ever count on it. You know that as soon as the sun rises, pouring down its scorching heat, the flower withers. Its petals wilt and, before you know it, that beautiful face is a barren stem. Well, that's a picture of the "prosperous life." At the very moment everyone is looking on in admiration, it fades away to nothing.
12 Anyone who meets a testing challenge head-on and manages to stick it out is mighty fortunate. For such persons loyally in love with God, the reward is life and more life.
13-15 Don't let anyone under pressure to give in to evil say, "God is trying to trip me up." God is impervious to evil, and puts evil in no one's way. The temptation to give in to evil comes from us and only us. We have no one to blame but the leering, seducing flare-up of our own lust. Lust gets pregnant, and has a baby: sin! Sin grows up to adulthood, and becomes a real killer.
16-18 So, my very dear friends, don't get thrown off course. Every desirable and beneficial gift comes out of heaven. The gifts are rivers of light cascading down from the Father of Light. There is nothing deceitful in God, nothing two-faced, nothing fickle. He brought us to life using the true Word, showing us off as the crown of all his creatures.
Act on What You Hear
19-21 Post this at all the intersections, dear friends: Lead with your ears, follow up with your tongue, and let anger straggle along in the rear. God's righteousness doesn't grow from human anger. So throw all spoiled virtue and cancerous evil in the garbage. In simple humility, let our gardener, God, landscape you with the Word, making a salvation-garden of your life.
22-24 Don't fool yourself into thinking that you are a listener when you are anything but, letting the Word go in one ear and out the other. Act on what you hear! Those who hear and don't act are like those who glance in the mirror, walk away, and two minutes later have no idea who they are, what they look like.
25 But whoever catches a glimpse of the revealed counsel of God—the free life!—even out of the corner of his eye, and sticks with it, is no distracted scatterbrain but a man or woman of action. That person will find delight and affirmation in the action.
26-27 Anyone who sets himself up as "religious" by talking a good game is self-deceived. This kind of religion is hot air and only hot air. Real religion, the kind that passes muster before God the Father, is this: Reach out to the homeless and loveless in their plight, and guard against corruption from the godless world.
New King James Version (NKJV)
Scripture taken from the New King James Version®. Copyright © 1982 by Thomas Nelson. Used by permission. All rights reserved.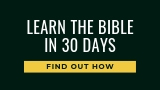 New Living Translation (NLT)
Holy Bible, New Living Translation, copyright © 1996, 2004, 2015 by Tyndale House Foundation. Used by permission of Tyndale House Publishers, Inc., Carol Stream, Illinois 60188. All rights reserved.