---
6 
"Because these people (Judah) have refused the gently flowing waters of [a]Shiloah
And rejoice in Rezin [the king of Aram] and Remaliah's son [Pekah the king of Israel],
7 
Now therefore, listen carefully, the Lord is about to bring on them the waters of the [Euphrates] River, strong and abundant—
The king of Assyria and all his glory;
And it will rise over all its channels and canals and go far beyond its banks.(A)
8 
"Then it will [b]sweep on into Judah; it will overflow and pass through [the hills],
Reaching even to the neck [of which Jerusalem is the head],
And its outstretched wings (the armies of Assyria) will fill the width of Your land, O Immanuel.(B)
Read full chapter
Footnotes
Isaiah 8:6 The perennial spring outside Jerusalem that flowed to the Pool of Siloam, Jerusalem's water supply. The spring was a symbol of God's protection and sustaining power.
Isaiah 8:8 This prophecy was literally fulfilled, and although Aram and Israel were conquered and led into captivity, the kingdom of Judah was spared and continued for over 130 years.
New International Version
6 "Because this people has rejected(A)
the gently flowing waters of Shiloah(B)
and rejoices over Rezin
and the son of Remaliah,(C)
7 therefore the Lord is about to bring against them
the mighty floodwaters(D) of the Euphrates—
the king of Assyria(E) with all his pomp.(F)
It will overflow all its channels,
run over all its banks(G)
8 and sweep on into Judah, swirling over it,(H)
passing through it and reaching up to the neck.
Its outspread wings(I) will cover the breadth of your land,
Immanuel[a]!"(J)
Read full chapter
Amplified Bible (AMP)
Copyright © 2015 by The Lockman Foundation, La Habra, CA 90631. All rights reserved.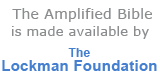 New International Version (NIV)
Holy Bible, New International Version®, NIV® Copyright ©1973, 1978, 1984, 2011 by Biblica, Inc.® Used by permission. All rights reserved worldwide.
NIV Reverse Interlinear Bible: English to Hebrew and English to Greek. Copyright © 2019 by Zondervan.