---
Contemporary English Version
10 My people will worship me.
Then the coastlands of Sharon
and the land as far
as Achor Valley[a]
will turn into pastureland
where cattle and sheep
will feed and rest.
11 What will I, the Lord, do
if any of you reject me
and my holy mountain?
What will happen to you
for offering food and wine
to the gods you call
"Good Luck" and "Fate"?
12 Your luck will end!
I will see to it
that you
are slaughtered with swords.
You refused to answer
when I called out;
you paid no attention
to my instructions.
Instead, you did what I hated,
knowing it was wrong.
Read full chapter
Footnotes
65.10 coastlands of Sharon. . . Achor Valley: Sharon is the coastal plain on the west, and Achor Valley is in the east near Jericho. These two places stand for the whole country.
New International Version
10 Sharon(A) will become a pasture for flocks,(B)
and the Valley of Achor(C) a resting place for herds,
for my people who seek(D) me.
11 "But as for you who forsake(E) the Lord
and forget my holy mountain,(F)
who spread a table for Fortune
and fill bowls of mixed wine(G) for Destiny,
12 I will destine you for the sword,(H)
and all of you will fall in the slaughter;(I)
for I called but you did not answer,(J)
I spoke but you did not listen.(K)
You did evil in my sight
and chose what displeases me."(L)
Read full chapter
Contemporary English Version (CEV)
Copyright © 1995 by American Bible Society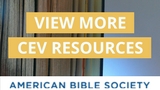 New International Version (NIV)
Holy Bible, New International Version®, NIV® Copyright ©1973, 1978, 1984, 2011 by Biblica, Inc.® Used by permission. All rights reserved worldwide.
NIV Reverse Interlinear Bible: English to Hebrew and English to Greek. Copyright © 2019 by Zondervan.