---
God's Vengeance on the Nations
63 Who is this who comes from Edom,
With crimson-stained garments from Bozrah [in Edom],
This One (the Messiah) who is majestic in His apparel,
Marching in the greatness of His might?
"It is I, [the One] who speaks in righteousness [proclaiming vindication], mighty to save."
2 
Why is Your apparel red,
And Your garments like the one who treads in the wine press?
3 
"I have trodden the wine trough alone,
And of the peoples there was no one with Me.
I also trod them in My anger
And trampled them in My wrath;
And their lifeblood is sprinkled on My garments,
And I stained all My clothes.
Read full chapter
New International Version
9 
Rejoice greatly, O Daughter of Zion!
Shout aloud, O Daughter of Jerusalem!
Behold, your King (Messianic King) is coming to you;
He is righteous and endowed with salvation,
[a]Humble and unassuming [in submission to the will of the Father] and riding on a [b]donkey,
Upon a colt, the foal of a donkey.
Read full chapter
Footnotes
Zechariah 9:9 Quoted in the NT to describe the triumphal entry of Jesus into Jerusalem, see Matt 21:1-11; Mark 11:1-11; Luke 19:28-38; John 12:14-16.
Zechariah 9:9 As a matter of discussion, the ancient rabbis noted an apparent contradiction between the coming of the Messiah with the clouds of heaven in Dan 7:13, and his riding on a donkey as prophesied here. Their solution was that Messiah would come with the clouds if Israel was worthy, but on a donkey if Israel was not.
The Coming of Christ the Conqueror
11 And I saw heaven opened, and behold, a white horse, and He who was riding it is called Faithful and True (trustworthy, loyal, incorruptible, steady), and in righteousness He judges and wages war [on the rebellious nations].(A) 12 His eyes are a flame of fire, and on His head are many royal crowns; and He has a name inscribed [on Him] which no one knows or understands except Himself. 13 He is dressed in a robe dipped in [a]blood, and His name is called The Word of God.(B) 14 And the armies of heaven, dressed in fine linen, [dazzling] white and clean, followed Him on white horses. 15 From His mouth comes a sharp sword (His word) with which He may strike down the nations, and He will [b]rule them with a rod of iron; and He will tread the wine press of the fierce wrath of God, the Almighty [in judgment of the rebellious world].(C) 16 And on His robe and on His thigh He has a name inscribed, "KING OF KINGS, AND LORD OF LORDS."(D)
Read full chapter
Footnotes
Revelation 19:13 Christ was once dipped in His own blood for mankind's redemption (1:5; 5:9, etc.), but now in the blood of the wicked for mankind's judgment.
Revelation 19:15 Or shepherd.
New International Version
The Heavenly Warrior Defeats the Beast
11 I saw heaven standing open(A) and there before me was a white horse, whose rider(B) is called Faithful and True.(C) With justice he judges and wages war.(D) 12 His eyes are like blazing fire,(E) and on his head are many crowns.(F) He has a name written on him(G) that no one knows but he himself.(H) 13 He is dressed in a robe dipped in blood,(I) and his name is the Word of God.(J) 14 The armies of heaven were following him, riding on white horses and dressed in fine linen,(K) white(L) and clean. 15 Coming out of his mouth is a sharp sword(M) with which to strike down(N) the nations. "He will rule them with an iron scepter."[a](O) He treads the winepress(P) of the fury of the wrath of God Almighty. 16 On his robe and on his thigh he has this name written:(Q)
king of kings and lord of lords.(R)
Read full chapter
Amplified Bible (AMP)
Copyright © 2015 by The Lockman Foundation, La Habra, CA 90631. All rights reserved.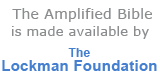 New International Version (NIV)
Holy Bible, New International Version®, NIV® Copyright ©1973, 1978, 1984, 2011 by Biblica, Inc.® Used by permission. All rights reserved worldwide.
NIV Reverse Interlinear Bible: English to Hebrew and English to Greek. Copyright © 2019 by Zondervan.