---
Amplified Bible, Classic Edition
2 Yet they seek, inquire for, and require Me daily and delight [externally] to know My ways, as [if they were in reality] a nation that did righteousness and forsook not the ordinance of their God. They ask of Me righteous judgments, they delight to draw near to God [in visible ways].
3 Why have we fasted, they say, and You do not see it? Why have we afflicted ourselves, and You take no knowledge [of it]? Behold [O Israel], on the day of your fast [when you should be grieving for your sins], you find profit in your business, and [instead of stopping all work, as the law implies you and your workmen should do] you extort from your hired servants a full amount of labor.(A)
4 [The facts are that] you fast only for strife and debate and to smite with the fist of wickedness. Fasting as you do today will not cause your voice to be heard on high.
Read full chapter
Amplified Bible, Classic Edition (AMPC)
Copyright © 1954, 1958, 1962, 1964, 1965, 1987 by The Lockman Foundation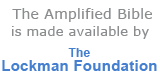 Bible Gateway Recommends
KJV and Amplified Parallel Bible, Large Print, Hardcover
Retail: $49.99
Our Price: $29.49
Save: $20.50 (41%)
Amplified Compact Holy Bible--soft leather-look, camel/burgundy - Imperfectly Imprinted Bibles
Retail: $34.99
Our Price: $18.39
Save: $16.60 (47%)
Battlefield of the Mind Bible: Renew Your Mind Through the Power of God's Word, Imitation Leather, pink
Retail: $79.99
Our Price: $53.99
Save: $26.00 (33%)
Classic Comparative Side-by-Side Bible (NIV, KJV, NASB, Amplified) , Bonded Leather
Retail: $89.99
Our Price: $57.99
Save: $32.00 (36%)
Amplified Reading Bible, Hardcover
Retail: $34.99
Our Price: $22.99
Save: $12.00 (34%)

Amplified & NKJV Parallel Bible Bonded Leather, Black, Large Print
Retail: $69.95
Our Price: $39.99
Save: $29.96 (43%)