---
Contemporary English Version
4 You even get angry
and ready to fight.
No wonder God won't listen
to your prayers!
5 Do you think the Lord
wants you to give up eating
and to act as humble
as a bent-over bush?
Or to dress in sackcloth
and sit in ashes?
Is this really what he wants
on a day of worship?
6 I'll tell you
what it really means
to worship the Lord.
Remove the chains of prisoners
who are chained unjustly.
Free those who are abused!
Read full chapter
New International Version
4 Your fasting ends in quarreling and strife,(A)
and in striking each other with wicked fists.
You cannot fast as you do today
and expect your voice to be heard(B) on high.
5 Is this the kind of fast(C) I have chosen,
only a day for people to humble(D) themselves?
Is it only for bowing one's head like a reed(E)
and for lying in sackcloth and ashes?(F)
Is that what you call a fast,
a day acceptable to the Lord?
Read full chapter
Contemporary English Version (CEV)
Copyright © 1995 by American Bible Society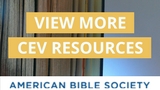 New International Version (NIV)
Holy Bible, New International Version®, NIV® Copyright ©1973, 1978, 1984, 2011 by Biblica, Inc.® Used by permission. All rights reserved worldwide.
NIV Reverse Interlinear Bible: English to Hebrew and English to Greek. Copyright © 2019 by Zondervan.