---
Contemporary English Version
2 Day after day, you worship him
and seem eager to learn
his teachings.
You act like a nation
that wants to do right
by obeying his laws.
You ask him about justice,
and say you enjoy
worshiping the Lord.
3 You wonder why the Lord
pays no attention
when you go without eating
and act humble.
But on those same days
that you give up eating,
you think only of yourselves[a]
and abuse your workers.
4 You even get angry
and ready to fight.
No wonder God won't listen
to your prayers!
Read full chapter
Footnotes
58.3 you think. . . yourselves: One possible meaning for the difficult Hebrew text.
New International Version
2 For day after day they seek(A) me out;
they seem eager to know my ways,
as if they were a nation that does what is right
and has not forsaken(B) the commands of its God.
They ask me for just decisions
and seem eager for God to come near(C) them.
3 'Why have we fasted,'(D) they say,
'and you have not seen it?
Why have we humbled(E) ourselves,
and you have not noticed?'(F)
"Yet on the day of your fasting, you do as you please(G)
and exploit all your workers.
4 Your fasting ends in quarreling and strife,(H)
and in striking each other with wicked fists.
You cannot fast as you do today
and expect your voice to be heard(I) on high.
Read full chapter
Contemporary English Version (CEV)
Copyright © 1995 by American Bible Society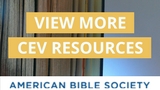 New International Version (NIV)
Holy Bible, New International Version®, NIV® Copyright ©1973, 1978, 1984, 2011 by Biblica, Inc.® Used by permission. All rights reserved worldwide.
NIV Reverse Interlinear Bible: English to Hebrew and English to Greek. Copyright © 2019 by Zondervan.