---
Amplified Bible, Classic Edition
10 For as the rain and snow come down from the heavens, and return not there again, but water the earth and make it bring forth and sprout, that it may give seed to the sower and bread to the eater,(A)
11 So shall My word be that goes forth out of My mouth: it shall not return to Me void [without producing any effect, useless], but it shall accomplish that which I please and purpose, and it shall prosper in the thing for which I sent it.
12 For you shall go out [from the spiritual exile caused by sin and evil into the homeland] with joy and be led forth [by your Leader, the Lord Himself, and His word] with peace; the mountains and the hills shall break forth before you into singing, and all the trees of the field shall clap their hands.
Read full chapter
New International Version
10 As the rain(A) and the snow
come down from heaven,
and do not return to it
without watering the earth
and making it bud and flourish,(B)
so that it yields seed(C) for the sower and bread for the eater,(D)
11 so is my word(E) that goes out from my mouth:
It will not return to me empty,(F)
but will accomplish what I desire
and achieve the purpose(G) for which I sent it.
12 You will go out in joy(H)
and be led forth in peace;(I)
the mountains and hills
will burst into song(J) before you,
and all the trees(K) of the field
will clap their hands.(L)
Read full chapter
Amplified Bible, Classic Edition (AMPC)
Copyright © 1954, 1958, 1962, 1964, 1965, 1987 by The Lockman Foundation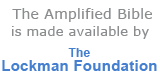 New International Version (NIV)
Holy Bible, New International Version®, NIV® Copyright ©1973, 1978, 1984, 2011 by Biblica, Inc.® Used by permission. All rights reserved worldwide.
NIV Reverse Interlinear Bible: English to Hebrew and English to Greek. Copyright © 2019 by Zondervan.