---
7 For a little while have I forsaken thee, but with great compassion will I gather thee.
8 For a moment in mine anger, I hid my face from thee for a little season, but with everlasting mercy have I had compassion on thee, saith the Lord thy redeemer.
9 For this is unto me as the [a]waters of Noah; for as I have sworn that the waters of Noah should no more go over the earth, so have I sworn that I would not be angry with thee, nor rebuke thee.
Read full chapter
Footnotes
Isaiah 54:9 As sure as the promise that I made to Noah, that the waters should no more overflow the earth.
New International Version
7 "For a brief moment(A) I abandoned(B) you,
but with deep compassion(C) I will bring you back.(D)
8 In a surge of anger(E)
I hid(F) my face from you for a moment,
but with everlasting kindness(G)
I will have compassion(H) on you,"
says the Lord your Redeemer.(I)
Read full chapter
1599 Geneva Bible (GNV)
Geneva Bible, 1599 Edition. Published by Tolle Lege Press. All rights reserved. No part of this publication may be reproduced or transmitted in any form or by any means, electronic or mechanical, without written permission from the publisher, except in the case of brief quotations in articles, reviews, and broadcasts.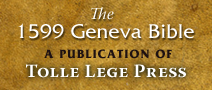 New International Version (NIV)
Holy Bible, New International Version®, NIV® Copyright ©1973, 1978, 1984, 2011 by Biblica, Inc.® Used by permission. All rights reserved worldwide.
NIV Reverse Interlinear Bible: English to Hebrew and English to Greek. Copyright © 2019 by Zondervan.