---
5 The Lord God hath opened mine ear, and I was not rebellious, neither turned I back.
6 I gave my back unto the [a]smiters, and my cheeks to the nippers: I hid not my face from shame and spitting.
7 For the Lord God will help me, therefore shall I not be confounded: therefore have I set my face like a flint, and I know that I shall not be ashamed.
Read full chapter
Footnotes
Isaiah 50:6 I did not shrink from God for any persecution or calamity. Whereby he showeth that the true ministers of God can look for none other recompense of the wicked, but after this sort, and also what is their comfort.
New International Version
5 The Sovereign Lord(A) has opened my ears;(B)
I have not been rebellious,(C)
I have not turned away.
6 I offered my back to those who beat(D) me,
my cheeks to those who pulled out my beard;(E)
I did not hide my face
from mocking and spitting.(F)
7 Because the Sovereign Lord(G) helps(H) me,
I will not be disgraced.
Therefore have I set my face like flint,(I)
and I know I will not be put to shame.(J)
Read full chapter
1599 Geneva Bible (GNV)
Geneva Bible, 1599 Edition. Published by Tolle Lege Press. All rights reserved. No part of this publication may be reproduced or transmitted in any form or by any means, electronic or mechanical, without written permission from the publisher, except in the case of brief quotations in articles, reviews, and broadcasts.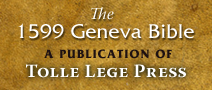 New International Version (NIV)
Holy Bible, New International Version®, NIV® Copyright ©1973, 1978, 1984, 2011 by Biblica, Inc.® Used by permission. All rights reserved worldwide.
NIV Reverse Interlinear Bible: English to Hebrew and English to Greek. Copyright © 2019 by Zondervan.