---
13 I am God and always will be.
No one can escape from my power;
no one can change what I do."
Escape from Babylon
14 Israel's holy God, the Lord who saves you, says,
"To save you, I will send an army against Babylon;
I will break down the city gates,
and the shouts of her people will turn into crying.
15 I am the Lord, your holy God.
I created you, Israel, and I am your king."
Read full chapter
New International Version
13  Yes, and from ancient days(A) I am he.(B)
No one can deliver out of my hand.
When I act, who can reverse it?"(C)
God's Mercy and Israel's Unfaithfulness
14 This is what the Lord says—
your Redeemer,(D) the Holy One(E) of Israel:
"For your sake I will send to Babylon
and bring down as fugitives(F) all the Babylonians,[a](G)
in the ships in which they took pride.
15 I am the Lord,(H) your Holy One,
Israel's Creator,(I) your King.(J)"
Read full chapter
Good News Translation (GNT)
Copyright © 1992 by American Bible Society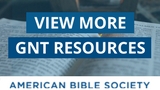 New International Version (NIV)
Holy Bible, New International Version®, NIV® Copyright ©1973, 1978, 1984, 2011 by Biblica, Inc.® Used by permission. All rights reserved worldwide.
NIV Reverse Interlinear Bible: English to Hebrew and English to Greek. Copyright © 2019 by Zondervan.