---
Contemporary English Version
3 He goes after them so quickly
that his feet
barely touch the ground—
he doesn't even get hurt.
4 Who makes these things happen?
Who controls human events?
I do! I am the Lord.
I was there at the beginning;
I will be there at the end.
5 Islands and foreign nations
saw what I did
and trembled
as they came near.
Read full chapter
New International Version
3 He pursues them and moves on unscathed,(A)
by a path his feet have not traveled before.
4 Who has done this and carried it through,
calling(B) forth the generations from the beginning?(C)
I, the Lord—with the first of them
and with the last(D)—I am he.(E)"
Read full chapter
Contemporary English Version (CEV)
Copyright © 1995 by American Bible Society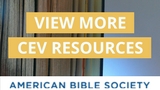 New International Version (NIV)
Holy Bible, New International Version®, NIV® Copyright ©1973, 1978, 1984, 2011 by Biblica, Inc.® Used by permission. All rights reserved worldwide.
NIV Reverse Interlinear Bible: English to Hebrew and English to Greek. Copyright © 2019 by Zondervan.