---
Amplified Bible, Classic Edition
8 For Jerusalem is ruined and Judah is fallen, because their speech and their deeds are against the Lord, to provoke the eyes of His glory and defy His glorious presence.
9 Their respecting of persons and showing of partiality witnesses against them; they proclaim their sin like Sodom; they do not hide it. Woe to them! For they have brought evil [as a reward upon themselves].
10 Say to the righteous that it shall be well with them, for they shall eat the fruit of their deeds.
Read full chapter
Amplified Bible, Classic Edition (AMPC)
Copyright © 1954, 1958, 1962, 1964, 1965, 1987 by The Lockman Foundation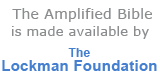 Bible Gateway Recommends
The Amplified Study Bible, eBook - eBook
Our Price: $14.99
Amplified Reading Bible, Hardcover
Retail: $34.99
Our Price: $22.99
Save: $12.00 (34%)
Amplified Study Bible, Large Print, Imitation Leather, Brown
Retail: $69.99
Our Price: $45.99
Save: $24.00 (34%)
Amplified Compact Holy Bible, hardcover
Retail: $14.99
Our Price: $9.99
Save: $5.00 (33%)
Amplified Bible, Battlefield of the Mind: Psalms and Proverbs Imitation Leather
Retail: $19.00
Our Price: $13.49
Save: $5.51 (29%)
Amplified Bible, Battlefield Of The Mind Bible, Imitation Leather, Blue
Retail: $79.99
Our Price: $53.99
Save: $26.00 (33%)