---
10 I was dying in the prime of life.
I thought, "Must I leave this world now?
Must I go through the gates of death
and miss out on the rest of my years?"
11 I thought, "I won't get to see[a] Yah again
in the land of the living.
No longer will I see my friends or family
nor enjoy the company of anyone living on earth.
12 My body is being folded up and taken from me,
taken down like a shepherd's tent.
He cuts my life short,
as a weaver cuts his cloth from the loom and rolls it up.
From day to night, you bring my life to an end.
Read full chapter
The Passion Translation (TPT)
The Passion Translation®. Copyright © 2017, 2018, 2020 by Passion & Fire Ministries, Inc.
Used by permission. All rights reserved. thePassionTranslation.com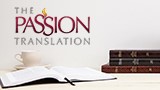 Bible Gateway Recommends
TPT Large-Print New Testament with Psalms, Proverbs, and Song of Songs, 2020 Edition--imitation leather, gray - Slightly Imperfect
Retail: $59.99
Our Price: $25.49
Save: $34.50 (58%)
The Passion Translation: Song of Songs - Divine Romance
Retail: $9.99
Our Price: $7.49
Save: $2.50 (25%)
TPT Compact New Testament with Psalms, Proverbs and Song of Songs, 2020 Edition--imitation leather, brown
Retail: $29.99
Our Price: $14.99
Save: $15.00 (50%)
TPT Compact New Testament with Psalms, Proverbs and Song of Songs, 2020 Edition--imitation leather, charcoal
Retail: $29.99
Our Price: $14.99
Save: $15.00 (50%)
TPT New Testament with Psalms, Proverbs and Song of Songs, 2020 Edition--hardcover, espresso
Retail: $29.99
Our Price: $14.99
Save: $15.00 (50%)
The Passion Translation: Psalms (Poetry on Fire) - Illustrated Journaling Edition
Retail: $19.99
Our Price: $13.99
Save: $6.00 (30%)