---
Amplified Bible, Classic Edition
2 And yet He is wise and brings calamity and does not retract His words; He will arise against the house (the whole race) of evildoers and against the helpers of those who work iniquity.
3 Now the Egyptians are men and not God, and their horses are flesh and not spirit; and when the Lord stretches out His hand, both [Egypt] who helps will stumble, and [Judah] who is helped will fall, and they will all perish and be consumed together.
4 For the Lord has said to me, As the lion or the young lion growls over his prey—and though a large band of shepherds is called out against him, he will not be terrified at their voice or daunted at their noise—so the Lord of hosts will come down to fight upon Mount Zion and upon its hills.
Read full chapter
Amplified Bible, Classic Edition (AMPC)
Copyright © 1954, 1958, 1962, 1964, 1965, 1987 by The Lockman Foundation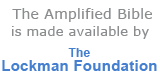 Bible Gateway Recommends
Amplified Bible, Large Print leather-look, brown/dark brown- index
Retail: $79.99
Our Price: $52.99
Save: $27.00 (34%)
Amplified Study Bible, Large Print, Imitation Leather, Brown
Retail: $69.99
Our Price: $43.49
Save: $26.50 (38%)

Everyday Life Bible: The Power Of God's Word For Everyday Living, Imitation Leather, pewter
Retail: $79.99
Our Price: $53.99
Save: $26.00 (33%)

Amplified Holy Bible, softcover
Retail: $19.99
Our Price: $13.99
Save: $6.00 (30%)
Amplified Reading Bible, Imitation Leather, Brown, Indexed
Retail: $59.99
Our Price: $38.99
Save: $21.00 (35%)

Battlefield of the Mind Bible, Amplified Version - Hardcover
Retail: $49.99
Our Price: $24.99
Save: $25.00 (50%)