---
Contemporary English Version
Don't Trust the Power of Egypt
31 You are in for trouble
if you go to Egypt for help,
or if you depend on
an army of chariots
or a powerful cavalry.
Instead you should depend on
and trust
the holy Lord God
of Israel.
2 The Lord isn't stupid!
He does what he promises,
and he can bring doom.
If you are cruel yourself,
or help those who are evil,
you will be destroyed.
3 The Egyptians are mere humans.
They aren't God.
Their horses are made of flesh;
they can't live forever.
When the Lord shows his power,
he will destroy the Egyptians
and all who depend on them.
Together they will fall.
Read full chapter
New International Version
Woe to Those Who Rely on Egypt
31 Woe(A) to those who go down to Egypt(B) for help,
who rely on horses,(C)
who trust in the multitude of their chariots(D)
and in the great strength of their horsemen,
but do not look to the Holy One(E) of Israel,
or seek help from the Lord.(F)
2 Yet he too is wise(G) and can bring disaster;(H)
he does not take back his words.(I)
He will rise up against that wicked nation,(J)
against those who help evildoers.
3 But the Egyptians(K) are mere mortals and not God;(L)
their horses(M) are flesh and not spirit.
When the Lord stretches out his hand,(N)
those who help will stumble,
those who are helped(O) will fall;
all will perish together.(P)
Read full chapter
Contemporary English Version (CEV)
Copyright © 1995 by American Bible Society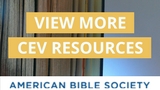 New International Version (NIV)
Holy Bible, New International Version®, NIV® Copyright ©1973, 1978, 1984, 2011 by Biblica, Inc.® Used by permission. All rights reserved worldwide.
NIV Reverse Interlinear Bible: English to Hebrew and English to Greek. Copyright © 2019 by Zondervan.