---
Amplified Bible, Classic Edition
5 Yet will all be ashamed because of a people [the Egyptians] who cannot profit them, who are not a help or benefit, but a shame and disgrace.
6 A mournful, inspired prediction (a burden to be lifted up) concerning the beasts of the South (the Negeb): Oh, the heavy burden, the load of treasures going to Egypt! Through a land of trouble and anguish, in which are lioness and lion, viper and fiery flying serpent, they carry their riches upon the shoulders of young donkeys, and their treasures upon the humps of camels, to a people that will not and cannot profit them.
7 For Egypt's help is worthless and toward no purpose. Therefore I have called her Rahab Who Sits Still.
Read full chapter
Amplified Bible, Classic Edition (AMPC)
Copyright © 1954, 1958, 1962, 1964, 1965, 1987 by The Lockman Foundation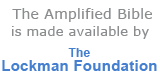 Bible Gateway Recommends
Battlefield of the Mind New Testament--soft leather-look, arcadia blue
Retail: $24.99
Our Price: $17.49
Save: $7.50 (30%)
Amplified Holy Bible--bonded leather, burgundy (indexed)
Retail: $59.99
Our Price: $38.99
Save: $21.00 (35%)
KJV and Amplified Parallel Bible, Large Print, Bonded Leather, Black
Retail: $79.99
Our Price: $53.99
Save: $26.00 (33%)
Battlefield of the Mind Bible: Renew Your Mind Through the Power of God's Word, Imitation Leather, pink
Retail: $79.99
Our Price: $44.99
Save: $35.00 (44%)
Amplified & NKJV Parallel Bible Bonded Leather, Black, Large Print
Retail: $69.95
Our Price: $39.99
Save: $29.96 (43%)
Amplified Outreach Bible, Paperback
Retail: $6.99
Our Price: $4.99
Save: $2.00 (29%)