---
16 Instead, you plan to escape from your enemies by riding fast horses. And you are right—escape is what you will have to do! You think your horses are fast enough, but those who pursue you will be faster! 17 A thousand of you will run away when you see one enemy soldier, and five soldiers will be enough to make you all run away. Nothing will be left of your army except a lonely flagpole on the top of a hill. 18 And yet the Lord is waiting to be merciful to you. He is ready to take pity on you because he always does what is right. Happy are those who put their trust in the Lord.
Read full chapter
New International Version
16 You said, 'No, we will flee(A) on horses.'(B)
Therefore you will flee!
You said, 'We will ride off on swift horses.'
Therefore your pursuers will be swift!
17 A thousand will flee
at the threat of one;
at the threat of five(C)
you will all flee(D) away,
till you are left(E)
like a flagstaff on a mountaintop,
like a banner(F) on a hill."
18 Yet the Lord longs(G) to be gracious to you;
therefore he will rise up to show you compassion.(H)
For the Lord is a God of justice.(I)
Blessed are all who wait for him!(J)
Read full chapter
Good News Translation (GNT)
Copyright © 1992 by American Bible Society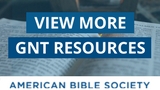 New International Version (NIV)
Holy Bible, New International Version®, NIV® Copyright ©1973, 1978, 1984, 2011 by Biblica, Inc.® Used by permission. All rights reserved worldwide.
NIV Reverse Interlinear Bible: English to Hebrew and English to Greek. Copyright © 2019 by Zondervan.