---
Amplified Bible, Classic Edition
9 And see! Here comes a troop of men and chariots, horsemen in pairs! And he [the watchman] tells [what it foretells]: Babylon has fallen, has fallen! And all the graven images of her gods lie shattered on the ground [in my vision]!
10 O you my threshed and winnowed ones [my own people the Jews, who must be trodden down by Babylon], that which I have heard from the Lord of hosts, the God of Israel, I have [joyfully] announced to you [Babylon is to fall]!
11 The mournful, inspired prediction (a burden to be lifted up) concerning Dumah (Edom): One calls to me from Seir (Edom), Watchman, what of the night? [How far is it spent? How long till morning?] Guardian, what of the night?
Read full chapter
Amplified Bible, Classic Edition (AMPC)
Copyright © 1954, 1958, 1962, 1964, 1965, 1987 by The Lockman Foundation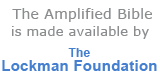 Bible Gateway Recommends
Amplified Bible, Battlefield Of The Mind Bible, Imitation Leather, Blue
Retail: $79.99
Our Price: $53.99
Save: $26.00 (33%)

KJV and Amplified Parallel Bible, Large Print, Leathersoft, Camel/rich red
Retail: $79.99
Our Price: $43.49
Save: $36.50 (46%)

Amplified Study Bible, Large Print, Imitation Leather, Brown
Retail: $69.99
Our Price: $43.49
Save: $26.50 (38%)
Amplified Reading Bible, Imitation Leather, Brown
Retail: $49.99
Our Price: $31.99
Save: $18.00 (36%)
Amplified Holy Bible, softcover
Retail: $19.99
Our Price: $13.99
Save: $6.00 (30%)
Amplified Holy Bible: Captures the Full Meaning Behind the Original Greek and Hebrew - eBook
Retail: $9.99
Our Price: $2.99
Save: $7.00 (70%)