---
Amplified Bible, Classic Edition
10 Hear [O Jerusalem] the word of the Lord, you rulers or judges of [another] Sodom! Give ear to the law and the teaching of our God, you people of [another] Gomorrah!
11 To what purpose is the multitude of your sacrifices to Me [unless they are the offering of the heart]? says the Lord. I have had enough of the burnt offerings of rams and the fat of fed beasts [without obedience]; and I do not delight in the blood of bulls or of lambs or of he-goats [without righteousness].
12 When you come to appear before Me, who requires of you that your [unholy feet] trample My courts?
Read full chapter
Amplified Bible, Classic Edition (AMPC)
Copyright © 1954, 1958, 1962, 1964, 1965, 1987 by The Lockman Foundation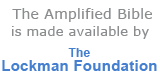 Bible Gateway Recommends
KJV and Amplified Parallel Bible, Large Print, Bonded Leather, Black
Retail: $79.99
Our Price: $47.99
Save: $32.00 (40%)
NKJV Amplified Parallel Large-Print Bible Flexisoft, Blue/Brown
Retail: $79.95
Our Price: $46.99
Save: $32.96 (41%)
Amplified Topical Reference Bible, Bonded Leather, Black
Retail: $69.99
Our Price: $37.99
Save: $32.00 (46%)
Amplified Bible, Battlefield Of The Mind Bible, Imitation Leather, Blue
Retail: $79.99
Our Price: $53.99
Save: $26.00 (33%)
New Everyday Life Bible: The Power Of God's Word For Everyday Living - Slightly Imperfect
Retail: $29.99
Our Price: $16.99
Save: $13.00 (43%)
Amplified Large-Print Bible, hardcover
Retail: $34.99
Our Price: $20.99
Save: $14.00 (40%)