---
Amplified Bible, Classic Edition
11 The princes of Zoan [ancient capital of the Pharaohs] are utterly foolish; the counsel of the wisest counselors of Pharaoh has become witless (stupid). How can you say to Pharaoh, I am a son of the wise, a son of ancient kings?
12 Where then are your wise men? Let them tell you now [if they are so wise], and let them make known what the Lord of hosts has purposed against Egypt [if they can].
13 The princes of Zoan have become fools, and the princes of Memphis are confused and deceived; those who are the cornerstones of her tribes have led Egypt astray.
Read full chapter
Amplified Bible, Classic Edition (AMPC)
Copyright © 1954, 1958, 1962, 1964, 1965, 1987 by The Lockman Foundation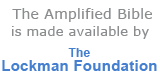 Bible Gateway Recommends
Amplified Holy Bible--bonded leather, burgundy (indexed)
Retail: $59.99
Our Price: $35.99
Save: $24.00 (40%)

Everyday Life Bible: The Power Of God's Word For Everyday Living, Imitation Leather, pink
Retail: $79.99
Our Price: $53.99
Save: $26.00 (33%)

Battlefield of the Mind Bible: Renew Your Mind Through the Power of God's Word, Imitation Leather, brown
Retail: $79.99
Our Price: $54.99
Save: $25.00 (31%)

Amplified Reading Bible, Imitation Leather, Brown
Retail: $49.99
Our Price: $29.99
Save: $20.00 (40%)

Amplified Study Bible--soft leather-look, purple (indexed)
Retail: $79.99
Our Price: $47.99
Save: $32.00 (40%)

Amplified Holy Bible, XL Edition--soft leather-look, brown
Retail: $49.99
Our Price: $31.99
Save: $18.00 (36%)