---
5 ¶ O [a]Assyria, the rod of my wrath: and the staff in their hands is mine indignation.
6 I will send [b]him to a dissembling nation, and I will give him a charge against the people of my wrath to take the spoil and to take the prey, and to tread them under feet like the mire in the street.
7 But he thinketh not so, neither doth his heart esteem it so: but he imagineth to destroy and to cut off not a few nations.
Read full chapter
Footnotes
Isaiah 10:5 God calleth for the Assyrians to be the executioners of his vengeance.
Isaiah 10:6 That is, the Assyrians against the Jews, which are but hypocrites: and in the sixth and seventh verse is declared the difference of the work of God, and of the wicked in one very thing and act: for God's intention is to chastise them for their amendment, and the Assyrians' purpose is to destroy them to enrich themselves: thus in respect of God's justice, it is God's work, but in respect of their own malice, it is the work of the devil.
New International Version
God's Judgment on Assyria
5 "Woe(A) to the Assyrian,(B) the rod(C) of my anger,
in whose hand is the club(D) of my wrath!(E)
6 I send him against a godless(F) nation,
I dispatch(G) him against a people who anger me,(H)
to seize loot and snatch plunder,(I)
and to trample(J) them down like mud in the streets.
7 But this is not what he intends,(K)
this is not what he has in mind;
his purpose is to destroy,
to put an end to many nations.
Read full chapter
1599 Geneva Bible (GNV)
Geneva Bible, 1599 Edition. Published by Tolle Lege Press. All rights reserved. No part of this publication may be reproduced or transmitted in any form or by any means, electronic or mechanical, without written permission from the publisher, except in the case of brief quotations in articles, reviews, and broadcasts.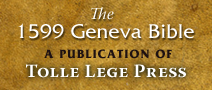 New International Version (NIV)
Holy Bible, New International Version®, NIV® Copyright ©1973, 1978, 1984, 2011 by Biblica, Inc.® Used by permission. All rights reserved worldwide.
NIV Reverse Interlinear Bible: English to Hebrew and English to Greek. Copyright © 2019 by Zondervan.